With thousands of people registering domain names every day, its getting harder to find the domain name you want. There are a number of domain name generator sites out there that allow you to input keywords (relating to your new website, ie technology,mobile gadgets,etc) and search for available domain names using a combination of words related to your keyword.
After an extensive research and reviews, here are some of the best free online tools that will help you choose the best domain name possible.
Must Read: 
1. NameTumbler
NameTumbler is an excellent domain name generator which can help you to figure out your domain name. It combines the search word with some grammatical words (like adjective, nouns), common words, etc. In result, it give a massive list of domain name.
2. DomainIt
Domainit is a great domain suggestion tool. Just type in the domain you're looking for and it will tell you in which extension (.com, .net, etc.) it might be available.
3. Nameboy
Nameboy is a popular domain name search tool. This tool asks for a "Primary Word" and "Secondary Word" that describe the topic of your website, and based on your input, it suggests possible domain names.The feature that I like is that it immediately color codes the results depending on the availability status of the domain name.
4. DomainWhiz
Definitely a great domain name suggestion tool, type in a few keywords, it gives you hundreds of suggested domains with its availability. It's definitely a great tool. Try it!
5. NXdom
Get Unlimited Domain name Ideas With Nxdom Quickly. NXdom has indexed millions of DNS records of expired and unused domain names. You can search by prefix and suffix, and sort the results by length, readability, and popularity. This tool also help you to search for short domain names.
6. PsychicWhois
Psychicwhois covers a wide variety of TLDs (.com, .net, .org, .biz, .info, .us) and provides a lot of alternative domain name suggestions based on your previous searches and related terms.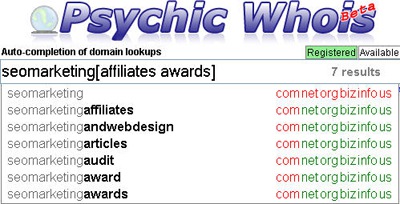 7.Domainsbot
Domainsbot automatically creates synonyms of each keyword in your search. You can easily narrow down your results by using their various options.
8.Bustaname
Bustaname makes your mind mapping too easy, with lots of suggestion and words. The tool combine the given keywords, gives synonyms for each one, adds prefixes and suffixes, shows both singular and plural versions, drops last vowel, checks for both hyphen- and non-hyphen versions. The tool dynamically checks for 3 top level domains: .com, .net and .org.
 If you know any another keyword tool you would like to suggest make sure to suggest it in the comments below.