Keyword research is quite possibly the most important part of SEO. Identifying the most profitable keywords for your topic is the most important step in getting a website into the top 10 of search engine. It all begins with words typed into a search box. It's not always about getting visitors to your site, but about getting the right kind of visitors.
Keyword research tools will help you accurately estimate the search volume for a specific keyword, identify search trends and get more information on finding niche market related keywords.These tools can provide you with such an extensive list of keyword ideas that you're unlikely to run out of content ideas any time soon!
"He will win who knows when to fight and when not to fight. He will win who, prepared himself, waits to take the enemy unprepared" – Sun Tzu
Online Keyword research tools:
1. Google keyword planner (Free)
The new Google keyword planner is a common starting point for keyword research. Keyword Planner having the combined functionality of the Keyword Tool and Traffic Estimator. It's much efficient tool for either small or big bloggers.
Semrush is my second favourite keyword research tools because it has over 95 million keywords in its database and covers millions of domains. This tool provides most searched keywords or phrases for your keyword search queries and yes, it provides related keywords also. It also gives you the top ranked site for your similar search keyword. So that you can research that site post and can write a best article to rank higher. Semrush is used by 310000+ webmasters currently.
Spyfu is a very effective tool to spy on your competition. You can spot the best adwords keywords your competition is using. Spyfu can save you thousands of dollars and a lot of time testing different keyword sets. You can find profitable keywords, top ad competitors, organic keywords, top organic competitors, ad history, whether ad copy has changed and lot of useful features.
KeywordSpy can really spy on the top competition that unveil your competitors' most profitable Ad copies & keywords.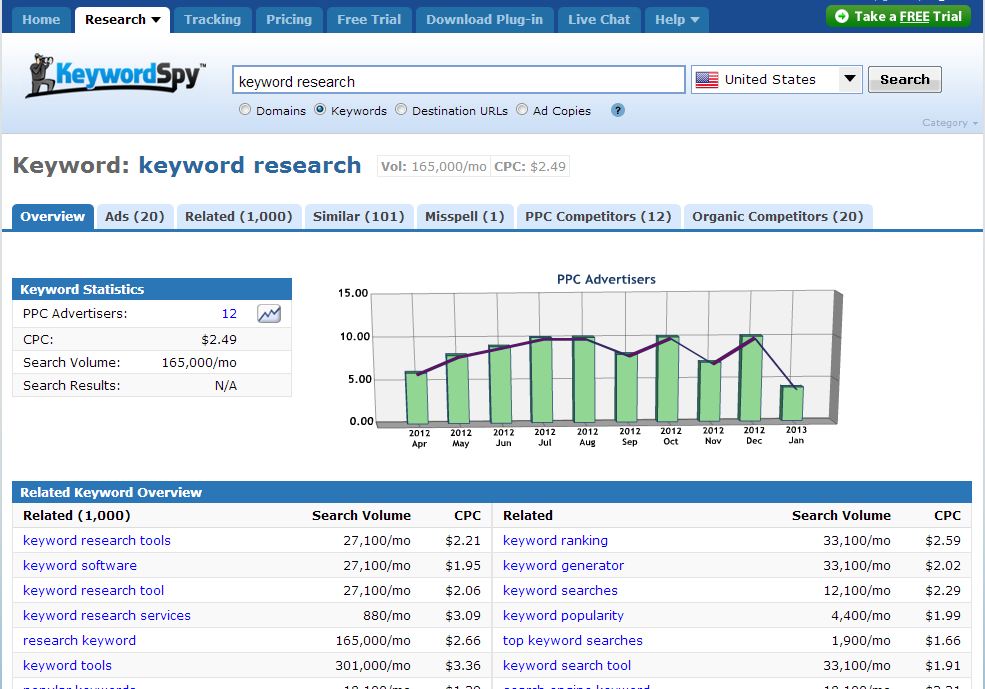 WebCEO is an all in one search engine optimization package. It gives you global searches, related keyword ideas, competition and search trends. It has lots of extra features that provide an excellent SEO workflow as well.
6. Keyword Discovery (Paid)
Keyword Discovery is a Wordtracker alternative that has received nowhere near the attention Wordtracker has attracted. Its database holds over 36 Billion from over 200 search engines to create most profitable keywords. The tool itself has several impressive features, giving users access to data including KEI analysis, search trends, keyword density, and industry keywords. You can also crawl for related terms, saving yourself a lot of time from researching each particular keyword.
7. Wordtracker (Paid)
Wordtracker is one of the most popular keyword analysis tools being used today. It offers a massive 340 million keyword database from which you can find out what your target audience are entering into search engines and how many times each keyword has been entered.
Analyse Keyword popularity using Google Trends
Google Trends provides data on search volume over time. It can tell you whether a keyword is gaining in popularity or falling out of favor among searchers.
Software based tools:
1. Market samurai (Free / Paid)
Market Samurai is by far the best keyword research and SEO analysis tool available in the internet. If you need some help finding the right keywords, Market Samurai is a great application to start with. It's focused almost entirely on keywords, from tracking your rankings for your keywords, to determining which keywords to target, to where to find content for your keywords, and how to buy domains for your keywords. It gives you all the info you need.
2. SEcockpit (Paid)
SECockpit is a cloud-based software (Meaning the application is Operating System independent because it runs in your preferred browser) and it is not a desktop-based tool like Market Samurai . So once you subscribed to them you will receive a welcome email with login username and password.  SECockpit could be a great tool if you are doing a lot of keyword research. With SECockpit you could get profitable keywords + nice search volume + low competition very easily. I will strongly recommend this tool for those who are serious about blogging. It worth every single penny.
SECockpit does the full competition analysis for every single keyword and brings results is seconds.
SeCockpit analyzes the CPC value and Adwords competition for each keyword. So, you'll know how lucrative a keyword is, in case you're looking at creating an Adsense site.
 Its rank tracker feature can track your keyword ranking in Google, Yahoo and Bing up to 100 keywords with no additional fees.
3. Long Tail Pro (Paid)
LongTailPro is a powerful keyword research software ability to target multiple seed keywords from the start.It allows the user to generate hundreds or thousands of unique "Long Tail" keywords in a matter of minutes based on 1 single root keyword or multiple root keywords at once.This software not only will save a lot of time but it will find great keywords and it's really taken my niche research to the next level.
LTP has 3 main Features:
Keyword Research:  Gives Thousands of Long Tail Keywords from One Keyword Search.
Competitor Analysis:  Find the competitiveness of each keyword and helps in determining if you should target the niche.
Rank Checker:  Monitor your keyword rankings in Google, Yahoo, and Bing.
4. Traffic Travis (Free / Paid)
TrafficTravis is basically a keyword and SEO research tool, very similar to the software Market Samurai. It enables you to get an inside look at your competitor's keyword list, how many backlinks their website has, what page rank they're in, how many pages they have indexed in search engines and a lot more. You can basically spy on your competition with this tool. Its being used by 2,50,000+ Webmasters. You can get success in Keyword Research with this awesome paid tool.

5. Ultimate Niche Finder (Paid)
Ultimate Niche Finder is brilliant at finding profitable keywords. It generate unlimited number of keywords from a single seed keyword in a click of a button. This tool able to get accurate and quick analysis of your competition, and it will let you know about how many backlinks you'll need in order to rank for any given keyword. It is quiet simple, easy to use and you can save tons of your time finding profitable micro niche keywords by using this awesome piece of software. It get results quickly than any other tools.
If ever you need some nice help on finding new and hidden niches, then you really need to start using this keyword tool.
6. SEOMOZ  (paid)
SEOmoz has a keyword difficulty tool that will help you to know how easy or difficult it will be to achieve top rankings for a particular keyword or search phrase. You can then track your rankings for the keywords that you are targeting, and you'll get a report each week that shows any increases or decreases in the rankings.
Features & Functionality:
Get data on any keyword term / phrase including Keyword Difficulty scores
See the top 10 rankings for any keyword with competitive analysis metrics
Store up to 300 keywords with your PRO membership accounts
Export keyword data to CSV for individual results and your complete keyword list.
7. SEO Profiler (paid)
SEO Profiler is  another great tool which you can use for same purpose as SEOmoz. But you can get it for less price. You can find and evaluate new keywords, evaluate the difficulty of ranking and check out the competition, see the keywords your competitors use in their PPC campaigns.  It comes with various packages from $47-$97.  Take a free trail here.
SEO profiler also has a ranking monitor, so that you can get detailed reports on where you rank in the major search engines, and track your progress to the top.
Improve your SEO Rankings and earnings with paid keyword Research tools:
Choosing the right keywords is possibly the most important step to get quick and targeted traffic. But its not as much easy as you think. Success in Keyword Research takes a lot of time and some investment too. PAID keyword research tools are much better and are believed to have a great efficiency in terms of research and analysis. You can't use free keyword research tools like Google Adwords tool to analyse keyword Rank, Difficulty in keywords, backlinks, KEI, etc . But once you started to earn enough from your blog and going to take Blogging seriously then paid Keyword Research tools is for you.
Keyword research can seem confusing at first, but once you've done it a few times you'll find that you can start to pick out likely 'targets' fairly quickly. If you know of any other tools you think should make it on this list, please don't hesitate to tell us about it.